Looking Ahead ...
Since our last State of the Market report, many industries and lines of business have seen changes to pricing, capacity and terms. While we don't yet have a wrap on 2021, we believe such a quickly evolving marketplace merits a brief update to our forecast.
The market continues to respond to the changing business landscape and as COVID lingers, supply chains struggle, and legislation necessitates adjustments for many industries, insureds will see pockets of the current hard market continue throughout First Quarter 2022.
At Amwins, our mission is to provide value to our clients regardless of the market environment. Our expert specialists have compiled this unique market perspective* to ensure our retail partners are prepared to advise insureds on what they can expect to see in the coming months.
No matter what the future brings, Amwins is ready for it. Now you are, too.
---
Market Summaries
Property Lines
Earlier this year we had predicted the market would flatten and while rates would continue to increase, the pace would ease. Overall, property rates are on target with our estimates, and we expect a controlled rate increase into 2022. Challenged classes and perils will continue to see more increases while accounts with better risk characteristics should experience flat to moderate increases.
The current hard market is an anomaly. Typically, we would see tight capital priced accordingly. In the current situation, however, there is capital to be deployed but it's not realizing adequate returns for investors. To control this, carriers are reducing the amount of limit deployed in high hazard classes, locations and perils, as well as simply exiting classes of business.
2021 was another tough year for property losses. Globally it has been a substantial CAT year for carriers and reinsurers—both modeled and unmodeled—with Ida, Uri, European floods, wildfires and now the addition of the Quad-State tornado. Natural disasters topped $42 billion for the first half of 2021, a ten-year high, and initial loss estimates for December's tornado are ~$3B. At the same time, attritional losses have not abated and remain at record highs.
Post-pandemic inflation is driving reconstruction costs and increasing claims due to high consumer goods demand and supply chain disruption. Economists believe inflation will abate as pent-up demand eases and the supply chain catches up.
Valuation is a major contributor in claims increases. This issue has been festering for some time but was not addressed in the soft market cycle. Now, attention is focused on rating against "adequate" values to control loss expense. Accounts that carriers determined to be undervalued should expect adjustments and base quotes on the "adjusted values." Some carriers will internally rate accounts.
A further constricting of underwriting guidelines and terms and conditions will adversely affect our clients in 2022. In this guidance, our property specialists dive deeper into trends within specific industry segments.
Casualty Lines
It's been a tough few years for casualty lines, with 2020 presenting the hardest market in 18 years. Much of the disruption we have experienced has been in the excess liability space where carriers decreased limits, raised attachment points and increased rates to levels not seen in decades.
In early 2021 we predicted that carriers would be comfortable with the adjustments they made in 2020 (in terms of capacity deployment and attachment point) and the focus in 2021 would be on rate. This has proved to be correct, and we are predicting much of the same for 2022.
While we have seen some deceleration of rate increases, make no mistake, rate is still needed in the excess space, especially in distressed classes such as public entity, transportation, wildfire exposed risks and Florida condo construction.
In 2021, we saw an influx of new capacity enter the marketplace in the form of new carriers and MGAs/MGUs. While this capacity may have tempered pricing in the marketplace, the capacity has not had a major effect on rate. Mainly, the new entrants have provided brokers with the capacity to fill out casualty towers, which was difficult in 2020. We anticipate capacity to continue to enter the marketplace in 2022, but not at the pace it did in 2021.
Overall, the casualty market will continue to be a challenge in 2022 with submission activity and gross written premium at an all-time high in the E&S marketplace.
Professional Lines
In stark contrast to what is going on in the property and casualty space, professional lines rates have been relatively stable since the start of the pandemic, save the following exceptions.
Both private and public primary Directors & Officers (D&O) rates continue to rise at a slowing rate and we expect them to remain in the 5% to 10% range in the first quarter of 2022. Excess D&O rates are starting to flatten and decrease after two years of increases.
Despite rapid acceleration of cyber insurance rates over the past year, carriers haven't yet seen the improvement in profitability needed to stabilize rates. As 2021 progressed, we saw more aggressive rate hikes, leaving accounts bound in the first quarter priced below the models we are seeing now. As a result, many accounts can expect 50% to over 100% rate increases in the first quarter of 2022. We are hopeful rates will begin to level after carriers have experienced a full year of rate adjustments.
Cyber losses related to ransomware, social engineering and privacy breaches continue, but cyber security controls pushed by the insurance industry should start showing positive results in 2022.
Additionally, we can expect to see ongoing increases for the foreseeable future in the following areas:
Initial Public Offerings (IPO) and Special Purpose Acquisition Company (SPAC) policies continue to see astronomic premiums and we are more likely to see increases due to the continued frequency and severity of securities class actions following public offerings.
Carriers are not optimistic about Employment Practices Liability Insurance (EPLI) as courts reopen and more employees return to work. They are watching to see if claims arise from lockdown layoffs, rehiring, mandates, awareness of racial inequality or the typical mistakes that happen when employees are working face to face again. We will continue to monitor this line for rate changes in the coming months.
---
Healthcare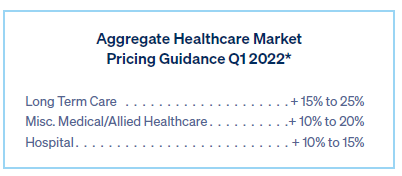 Rate increases have been moderating in the fourth quarter of 2021 due to new capacity that entered the marketplace earlier this year. This new capacity is putting some pressure on the incumbent markets.
Overall, we are seeing single-digit rate increases for preferred risks, but accounts in tougher venues and those with poor claim history are seeing large rate increases on renewals. We expect this trend to continue into the first quarter of 2022.
Be on the Lookout
For long term care, primary PL/GL rates are still increasing in the 15% to 25% range depending on loss history and venue, but excess rates have stabilized after seeing rates rise 25% to 35% over the past 12 months. There still isn't enough carrier capacity available, however, for excess premiums to see a decrease in pricing any time soon.
Overall rate increases for Miscellaneous Medical/Allied Healthcare are in the 10% to 20% range while accounts in tougher venues, such as NY, FL, IL and CA, all continue to see overall rate increases. Home health and medical staffing accounts are seeing larger rate increases due to fewer carriers writing these accounts. Meanwhile, surgery center, urgent care and medical clinic rates have stabilized.
Rate increases for hospitals are averaging around 10% to 15% depending on loss history and venue, while excess hospital rate increases are averaging between 10% and 20% depending on venue and loss history.
---
Construction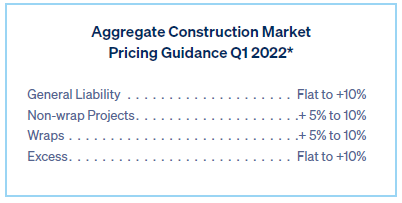 For the past 24 months, construction markets have seen reduced capacity and restricted policy conditions as well as higher rates and deductibles. The tides are slowly beginning to turn, however, with more carriers entering the market and aggressively bidding both primary and excess business.
Rate increases have begun to soften throughout the U.S. and, while we may still see a 5% to 10% firming in the first quarter of 2022, rates are expected to continue to stabilize on accounts that have a good loss history.
LONDON
As a result of the COVID-19 pandemic, underwriters have imposed rate and deductible increases and more restrictive conditions on policy coverage. These changes were applied generally across all types of construction and engineering projects, from large civil engineering risks to simple buildings.
Another change brought about by the pandemic is an increase in mid-term opportunities as insureds around the world require replacement capacity and request that new markets step up to insure the unfinished projects. The appetite for mid-term support in London has increased in the last six months as our construction underwriters are keen to provide capacity solutions to insureds who have lost insurance capacity midway through a construction project.
Water damage cover continues to be a hot topic of conversation in the London construction market, given the volume of losses that have occurred. This has predictably pushed up deductibles for this cover, a trend we expect to continue.
Rates for frame construction in the London market have continued to steadily increase in the last three to six months in line with increases that have also occurred in the U.S. frame market. This allows our markets to continue to provide significant capacity for these types of projects throughout the U.S.
Be on the Lookout
Despite the relief in much of the sector, accounts with losses will likely continue to see rate increases, and some business classes will find it challenging to get coverage regardless of loss history. We see limited primary and/or excess markets interested in the following classes:
Steel Erection Contractors
Street and Road
Demolition
Dam and Bridge
Piling Contractors
Concrete Forms Contractors
Janitorial
Utility Contractors
Roofing Contractors
Frame Apartment Construction/ Single family/Condo construction due to limited markets available for this class
To succeed in these classes, retailers should get to market early and focus on writing quality submissions that showcase the businesses as good risks.
---
Energy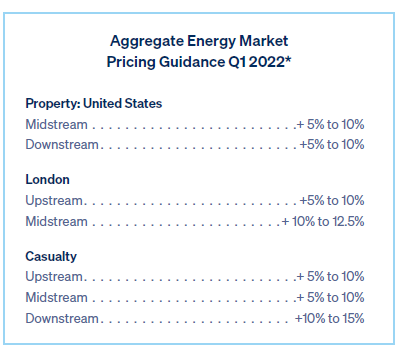 Energy markets are not so much softening as they are hardening more slowly thanks to increased flexibility from underwriters and more competition in the market.
Rate increases over the past two years have inspired some underwriters to return to the table to take advantage of the higher premium levels, but capacity remains somewhat restricted.
Downstream property is still expected to see stable rate increases for the coming six months, while midstream will continue to decelerate due to the pressure from both upstream and downstream carriers targeting the class.
LONDON
We have seen rate rises between 5% and 10% on average for upstream property/OEE business, however, this is dependent on loss record and profile. Rate rises for midstream business are in the range of 10% to 12.5%.
Minimum and deposit premium levels remain at US$50,000. Some markets are commenting that they feel this may be insufficient depending on the profile of the risk.
On upstream liability business we are seeing rate rises of around 15%. With some new capacity in the market, the hope is that this may have a positive impact on the rates for insureds.
Casualty
As exposures climb, carriers in the upstream class are increasingly willing to get a lower rate because the premiums are already trending higher. The capacity in the downstream space keeps the rates a little higher, but overall, we expect rates to continue to fall as they have over the past six months.
Be on the Lookout
Several emerging issues and ongoing trends are likely to impact the energy sector in the coming year, including the following.
Risk-Management Practices: In some parts of the world, the insureds' reluctance to embrace risk management is wearing thin and carriers are starting to impose restrictive terms and conditions or refusing to insure altogether.

Accurate Loss Exposure Valuations: Underwriters are seeing an increase in business interruption values and limits due to oil and gas price fluctuations and the changing levels of consumer demand. Some underwriters are including a valuation section within the latest risk-management survey to highlight the importance of setting accurate values.

ESG: Underwriters are increasingly using environmental, social and governance analysis to evaluate a company or industry and the resulting metrics influence the underwriting position.

Cyber: With the growing use of technology in the downstream energy industry, the exposure to cyber events grows. Insureds need to proactively address cyber risk through a combination of increased cyber security and cyber insurance.
---
Environmental

Environmental liability costs continue to rise, and rates will depend on the class of business and identified exposures. For example, businesses such as oil pipelines and certain chemical classes are hardening. Site pollution also continues to have terms tighten and see price increases around mold claims.
Be on the Lookout
Environmental, social and governance (ESG) initiatives are being scrutinized by carriers, affecting coverage in certain industries.
PFAS regulation and enforcement, as well as microplastics are the next hot button environmental issues.
The new infrastructure plan will likely lead to increased requirements to purchase environmental coverage.
---
Public Entity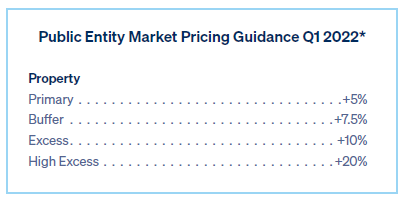 Property
While in recent years the type or size of a public entity account may have played a role in rate fluctuation, we aren't seeing a lot of that in the current market. Instead, rate changes are being influenced largely by loss history and SIR (self-insured retention) as well as carrier capacity in the CAT portfolio.
Much of the past two years have seen an increased focus on ensuring profitability for the market, which not only means rate increases but also re-evaluating loss history and setting appropriate SIRs. Carriers want to stay out of attritional losses, so historically low SIRs are coming under pressure for increased limits, especially when an account has an active loss history. So, while an account might not see a significant rate increase, the total cost could still go up with the increased limits.
While incumbent markets are relatively modest in their rate increases for CAT policies, the market seems to be reducing CAT line size across the board—$10 million reduced to $7.5 million, $7.5 million reduced to $5 million, etc.—effectively shrinking layer capacity in the market. This presents a significant challenge to accounts that now need to find additional players to replace any reduced (lost) capacity experienced with current carriers.
For those rare accounts that are still placed within a single carrier program, rates are increasing substantially as programs adjust both coverages and price. We have seen some instances where accounts are looking at a 40% rate increase at renewal.
Casualty
For the most part, observed rate changes are impacted by particular account variables, which in turn can be challenging to aggregate across a portfolio. (For example, premiums may have decreased while the total limit purchased was also reduced, and the retention increased.)
However, when we blend tort and non-tort cap protected venues nationally and include both pool and individual risk placements, we can make the following observations with data through the end of Third Quarter 2021.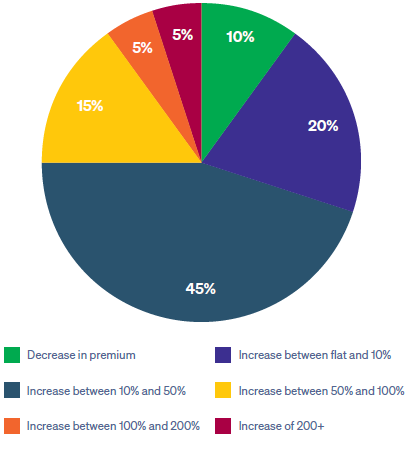 SIR Change: Like property policies, carriers are re-evaluating appropriate retained amounts and mandating increased attachments on accounts with losses, as well as jurisdictions with elevated loss severity trends. Most accounts (80%) maintained the same SIR (while 0% reduced SIRs). f the 20% that took an increased SIR (either electing to do so to offset premium increase or the market requiring higher attachment), most saw a substantial SIR increase ranging from 25% to 125%. On average, SIRs increased 16%.
Limit Change: The majority (85%) of accounts renewed at the same limit, while 5% of accounts purchased more limit and 10% purchased less.
Total Premium Change: The average total premium change on all accounts was 38%, with the effective rate hike significantly more when coupled with an average SIR increase of 16%. Segmented premium impacts are shown in the chart.
Be on the Lookout
We are seeing significant variances in PE Casualty carrier tolerances around specific exposure areas as well as trend selections by actuarial teams, so difficulty in placement will depend on an account's specific risk exposures. We also anticipate that legislative reforms and efforts around trend topics will have an impact on policy conditions and rate increases.
We can expect 2022 treaty renewals and mandatory exclusions to impact terms for public entity focused facilities and excess markets with public entity capabilities.
We will continue to see focus on limit aggregation in both individual risk and pooling risks for climate change driven exposures, sexual abuse and environmental or chemical exposures.
---
Real Estate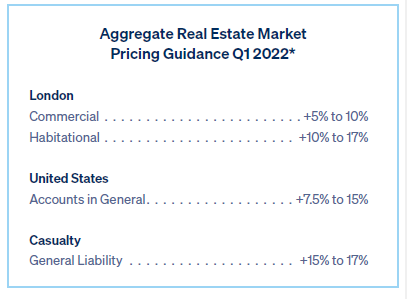 LONDON: In the commercial space, we anticipate an increase between 5% and 10% and an increase between 10% and 17% in habitational. Loss-affected accounts will always be the outliers to any rate prediction, however, especially in the habitational space. Wildfire-exposed real estate is facing a capacity crunch.
UNITED STATES: Real estate accounts in general are likely to experience controlled rate increases between 7.5% and 15% during the first quarter of 2022.
The more granular categories, however, are likely to experience unique renewal outcomes due to factors like CAT exposure, undervaluation, regional differences and carrier stance on segments. We have covered these categories in more detail in the supplemental Q1 2022 U.S. Real Estate Property Renewal Guide.
Casualty
The average increase on general liability with no change in losses is between 10% to 15%. However, on accounts with new losses or increases incurred from old losses, the sky is the limit. The most impactful way insureds have countered rate changes has been retentions of $100,000 or higher.
The current excess marketplace also remains challenging. The carriers able to provide a lead option remain limited, with more challenging schedules requiring multiple carriers to complete the first $5 million. While there has been an influx of new MGAs over the past six months, few have been willing to entertain the lead position on habitational. Additional entrants for excess of $5 million have helped soften the increases higher up in the tower. Whether more competition for lead excess appears in 2022 is still to be determined.
Be on the Lookout
Schedules with undervalued replacement costs—and the resulting insurance to value complications—remains an ongoing issue, exacerbated by the current scarcity of materials, skilled labor shortage and supply chain challenges.
With carriers continuing to heavily focus on reported valuations, retailers and insureds should work closely together to ensure assets and business income/rents are accurately valued.

Additional emerging trends and risk exposures are covered in the Q1 2022 U.S. Real Estate Property Renewal Guide.
---
Transportation
Inland Marine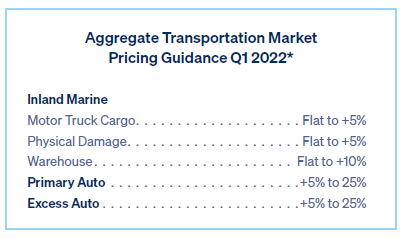 Motor Truck Cargo (MTC) rate increases are higher for tougher classes like auto haulers and target commodities. Rate fluctuation really depends on loss activity overall as most accounts are loss rated.
Monoline MTC is still very competitive. There are pockets where it's tough to secure coverage like auto haulers and drive-away risks, but otherwise, there are many great choices for coverage forms and pricing.
Carriers are still cutting capacity for higher limits on Automobile Physical Damage (APD), so we are seeing more layering on the larger accounts.
Monoline APD is challenging simply due to the limited number of markets offering it. For well-performing risks, we see some reduction in rate to flat/minimal increases. For tougher risks with loss problems, there's a need for more rate and higher deductibles.
For Warehouse Legal Liability, carriers are restricting capacity unless they are pleased with the loss control efforts put in place at a location. Thus, there is a heavier focus being placed on inspections.
LONDON
UK rates are holding across all participating Lloyd's and London markets. Larger fleets are conspicuous by their absence as they are being rolled into package deals with domestic markets.
Primary Auto
Primary auto has been getting more competitive with capacity up thanks to the emergence of several new fronted programs and no material carrier departures from the market. New business unit rates seem to be rising versus this time last year, but for well-performing risks in favorable venues, it's a strong market with many carrier options.
We aren't seeing consistent rate reductions, but there are a few. Mostly, we are seeing flat offerings up to single digit increases. Overall, rate increases are down from this period a year ago.
In terms of pricing trends, it varies by the risk profile of the insured. Good accounts could see a rate reduction of -5% to an increase of 9%. Tougher risks with CAB or loss issues face an increase between 10% and 25% or more. Venues where rate increases are likely to be higher include NY, GA, FL, TX, NJ, LA and metro areas.
Once again primary markets are starting to increase their limits and may offer up to $5M CSL options.
We see a bigger focus on technology and telematics, and insurance companies want to partner with insureds to get access to their data.
Excess Auto
The new capacity that has been coming into the marketplace has helped lessen rate needs for well-performing risks and more entrants continue to come into the market as Fourth Quarter 2021 ends.
Good risks with clean losses, strong CAB and strong use of technology are seeing rates anywhere from a reduction of -5% to low single digit increases like 5% or less. Tougher risks with big claims, frequency problems, CAB issues, etc. are going to face rate increases from 10% to 25% or more.
Be on the Lookout
The biggest issue facing the transportation industry at large is the shortage of commercial drivers. The average age of a commercial driver is 54 and the industry is working hard to recruit younger drivers into training programs where beginners can learn from experienced drivers.
The trouble businesses then run into in the insurance sector is that many markets still have restrictions on driving age (usually no one under 21 years old) and years of CDL experience (most want two years).
We are seeing more requests for leniency on these restrictions so companies can hire 18-year-old drivers fresh out of training.
For more on transportation staffing issues and the impact on insurance, check out the article Pricing Commercial Auto Insurance Amidst Driver Shortage.
---
We're Here to Help
At Amwins, we focus on helping you deliver the best product the market can provide through a specialized platform that delivers knowledge, market access and unique solutions. Contact your Amwins representative today to explore your options and find the best solution for your insureds.
Valuable insights provided by the following insurance specialists with Amwins:
Alex Romanos, Senior Broker, Construction Division, Amwins Global Risk
Andrea Dickinson, EVP, Transportation Practice member with Amwins Brokerage in Franklin, TN
Ben Abernathy, AVP, Energy Casualty Practice Leader with Amwins Brokerage in Atlanta, GA
Bob Black, EVP, Real Estate Property Practice Leader with Amwins Brokerage in Atlanta, GA
Brian Frost, EVP, Public Entity Casualty Practice Leader with Amwins Brokerage in Woodland Hills, CA
Chris Moulder, SVP, Transportation Practice member with Amwins Brokerage in Atlanta, GA
Corey T. Alison, EVP, Real Estate Casualty Practice Leader with Amwins Brokerage in Atlanta, GA
Daniel Drennen, VP, Environmental Practice Leader with Amwins Brokerage in Birmingham, AL
Darron Johnston, VP, Public Entity Property Practice Leader with Amwins Brokerage in Atlanta
David Lewison, Amwins Professional Lines Practice Leader
Don Tejeski, EVP, Healthcare Practice Co-Leader with Amwins Brokerage in Newtown, PA
Gary Ricker, EVP, NY Construction specialist with Amwins Brokerage in New York, NY
Harry Tucker, Amwins National Property Practice Leader
Jennifer Mier, EVP, Construction Casualty Practice Co-Leader with Amwins Brokerage in Dallas, TX
Jett Abramson, EVP, Construction Casualty Practice Co-Leader with Amwins Brokerage in Manhattan Beach, CA
Jonny Humphreys, Managing Director, US Transportation & Aviation Divisions, Amwins Global Risks
Judd O'Neal, EVP, Transportation Practice member with Amwins Brokerage in Chicago, IL
Mark Patterson, EVP, Construction Casualty Practice member with Amwins Brokerage in Kansas City, MO
Mark Ritson, Senior Broker, Energy & Marine Division, Amwins Global Risks
Matt Domitrovich, SVP, Transportation Practice member with Amwins Brokerage in Chicago, IL
Matthew Taylor, Broker, Energy & Marine Division, Amwins Global Risks
Phil Chester, EVP, Healthcare Practice Co-Leader with Amwins Brokerage in Farmington, CT
Rob Battenfield, Property Practice Leader with Amwins Brokerage in Houston, TX
Russell Jackson, AVP, Public Entity Practice member with Amwins Brokerage in Woodland Hills, CA
Scott Jensen, EVP, Construction Casualty Practice Co-Leader with Amwins Brokerage in Satellite Beach, FL
Steve Willsmer, Managing Director, Construction & Engineering Division, Amwins Global Risks
Toby Colls, Managing Director, Worldwide Property, Amwins Global Risks
Tom Dillon, Amwins National Casualty Practice Leader
Tom Keogh, Partner, Worldwide Property, Amwins Global Risks
Zach Bowling, SVP, Transportation Practice member with Amwins Brokerage in Chicago, IL