Amwins' proprietary cyber benchmarking tool assists in making policy limit purchasing decisions by analyzing data from thousands of cyber liability placements made by Amwins brokers.
While our proprietary benchmarking analysis is not able to evaluate specific risks facing an individual organization, the tool helps determine what limit and premium are reasonable relative to peer companies within a similar industry and revenue size.
The report provided through our benchmarking tool illustrates the percentage of policies within each premium range, filtered by the industry group and revenue size noted (see the example below). We can also supplement our own data with analytics from Advisen's Cyber OverVue.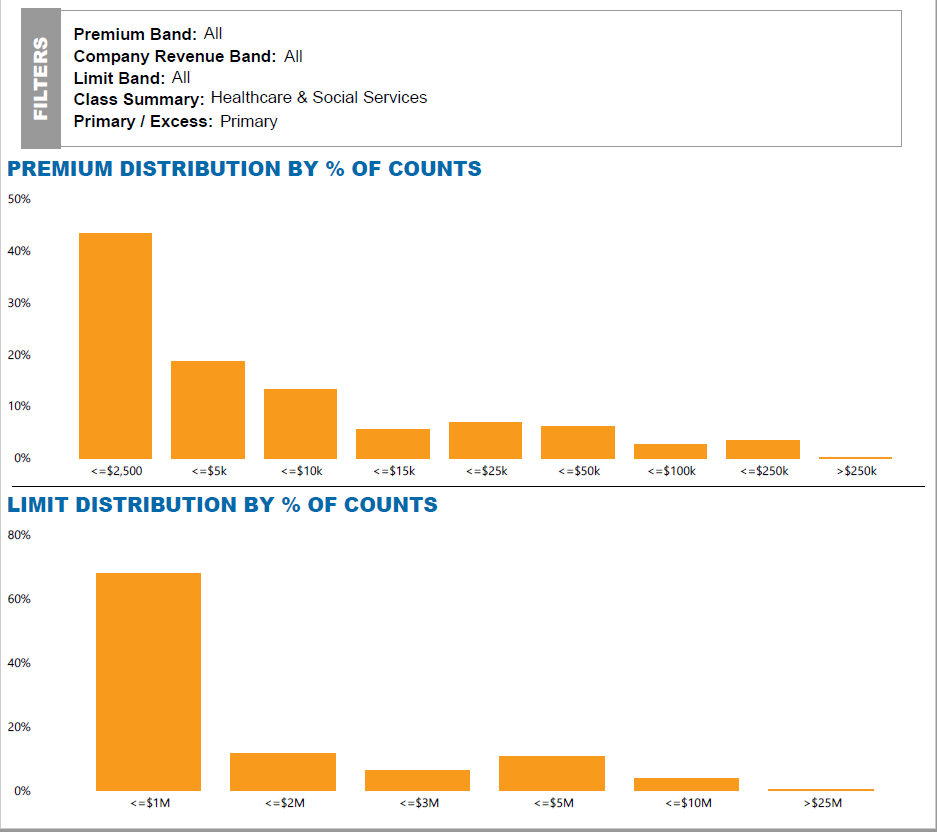 Please note that policy premium may be impacted by the risk factors of the individual company, as well as total limits purchased. The higher premiums may be indicative of organizations that are buying higher limits and/or facing more significant risk factors.
Cyber attacks and their severity and frequency are constantly evolving – with risks and expenses varying widely among industries.
Organizations attempting to estimate their cyber risk should consider the expenses of business interruption, ransomware, social engineering, privacy related litigation, privacy breach response costs, regulatory investigations, regulatory fines and penalties, legal forensic expenses, security forensic expenses, data recovery expenses and more.
There are many reports that estimate the cost of a data breach and other cyber related risks, such as the free NetDiligence Breach Cost Calculator. Coverage for many of these expenses may be insurable in a properly structured cyber insurance policy. We recommended reviewing each insured's unique risks and policy language with your Amwins broker.
For more information, contact your AmWINS Professional Lines broker or David Lewison, Amwins' National Professional Lines Practice Leader.