While the concept of punitive damages is designed to teach a defendant a lesson or deter others from engaging in the same kind of conduct, commercial advocacy groups have argued for years that punitive damages harm businesses in the United States.
Since 1999, the frequency and expense of punitive damages awarded in the U.S. has increased significantly due, in large part, to the unpredictability of juries. For example, 98% of punitive damages awarded over $100 million have been rendered by juries and only 2% by judges.
Businesses across the nation are potentially exposed to the risk of punitive damages awards that could lead to financial ruin. As a result, most states have applied individual exceptions where the award of punitive damages is only allowed under certain circumstances or the amount of any such awards is capped.
The risk of liability, however, still exists and many U.S. businesses struggle with how best to protect themselves in the event of losses related to punitive damages. One answer to this difficulty is liability insurance, but it doesn't always cover punitive damages.
To better understand the risk mitigation strategies available to business clients, it helps to look at how states handle the liability and insurability of punitive damages and what types of insurance are available.
Punitive Damages by State
Punitive damages can be based on a company's alleged misconduct (direct liability) or where the company is held legally liable for the wrongful acts of another person (vicarious liability). A common example of vicarious liability is when an employer is held responsible for the acts of its employees.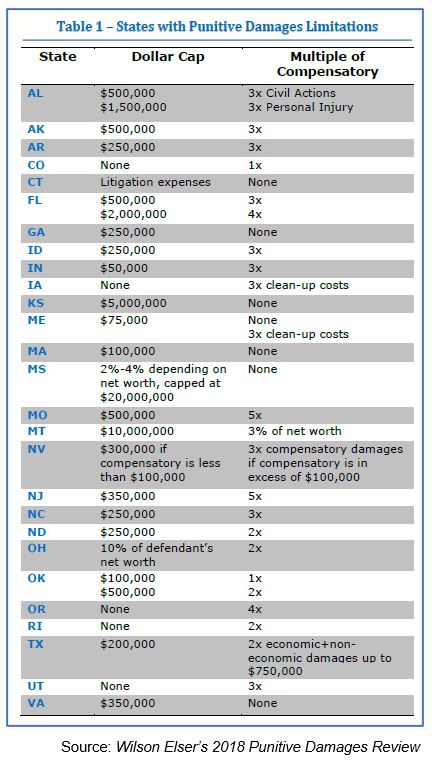 Some states require a higher burden of proof—"clear and convincing" evidence—before punitive damages can be awarded. Three states (Michigan, Nebraska and Washington) do not allow punitive damages to be awarded at all.
In Louisiana, New Hampshire and South Dakota punitive damages may only be awarded based on a statute. And many states have imposed statutory limits or "caps" on the level of punitive damages awarded. (Most recent caps by state are listed in Table 1.)
The statutes addressing punitive damages awards vary from state to state, and they can and do change from time to time. For specific information, we strongly recommend that you consult with your legal advisor.
Insurability of Punitive Damages
The insurability of punitive damages also varies widely by state (see Table 2 ) and the lack of consistency increases the exposure to most insureds, especially insureds with operations or business in multiple states.
Even if insureds are located in a state where the insurance of punitive damages may be permitted, they might be exposed if they engage in a contract in another state where punitive damages are not insurable. The permutations can become difficult to track and the only viable solution is to implement a comprehensive risk management program to cover all possible scenarios.
Managing & Mitigating the Risk
There are steps a business owner can take to protect against the unexpected impact of a punitive damages award. The following are the three most commonly used risk management tools:
1. Secure Coverage Under a Domestic Liability Insurance Policy with the following options:
Punitive Damages - Affirmative
Affirmative coverage for punitive damages can either be provided by an endorsement to the standard liability policy or will already be included in the policy issued by a licensed U.S. insurer.
Punitive Damages – Silent
Coverage is provided under a liability policy issued by a licensed U.S. insurer by virtue of the fact that the policy is silent with respect to coverage for an award of punitive damages. Some U.S. courts have taken the view that if punitive damages are not expressly excluded in the policy, they are covered, provided they are awarded in a state where punitive damages are insurable. This leaves a business exposed in states that do not permit punitive damages awards to be insured.
Most Favorable Jurisdiction / Venue Endorsement
This endorsement is intended to provide added protection to the insured under a domestic insurance policy by means of a choice-of-law provision. It will apply the law of jurisdiction that is "most favorable" to the insurability of punitive damages. The policy must affirmatively cover punitive damages. However, there is substantial uncertainty whether this provision would be enforced if, by doing so, otherwise uninsurable punitive damages become insurable. Since punitive damages are considered uninsurable in many
U.S. jurisdictions based upon public policy considerations, it appears likely that at least some courts will determine that by enforcing a choice-of-law provision, a fundamental policy of the forum state has been violated and therefore the choice-of law provision will not be enforced.
2. Secure Coverage Under a Liability Insurance Policy from a non-U.S. insurer
Coverage is provided under a stand-alone liability policy issued by an insurer licensed outside of the U.S.—most commonly Bermuda—where, in addition to standard liability coverage, the policy includes affirmative coverage for punitive damages.
This is separate and distinct from a non-U.S. carrier issuing a follow-form occurrence or claims made policy, where coverage for punitive damages follows the underlying policy, usually a policy issued by a licensed U.S. carrier.
The follow-form policy can be endorsed to affirmatively include punitive damages, but such coverage will likely not drop down in the event of underlying limit erosion.
3. Purchase a Punitive Damages Wrap-Around Policy
Coverage is provided under a policy issued by an insurer licensed outside of the U.S. that "wraps" around the domestic liability policy (GL, E&O, D&O, EPL, etc.) issued to the insured and covers punitive damages awards made in states where coverage for punitive damages is uninsurable.
The "wrap" policy sits alongside the domestic policy to provide affirmative coverage outside the U.S. for punitive damages in states that do not allow the domestic policy to respond. The wrap policy is generally not restricted as to attachment as it will replicate the attachment of the domestic policy, whether primary or excess.
Non-U.S. insurers who provide punitive damages wrap-around cover are not subject to any state insurance regulations and so are able to eliminate the inconsistencies associated with the insurability of punitive damages across the various U.S. laws.
Takeaway
When it comes to mitigation strategies to protect against the potential liability of punitive damages, business owners have a variety of choices, some of which require relationships with brokers outside of the U.S.
Determining which mitigation strategy is right for a business owner will vary depending on many risk factors, including but not limited to, where the business is physically located and the states where it operates. These decisions are best made in consultation with experts who have experiencing placing coverages under these circumstances.
Amwins Bermuda has been offering punitive damage wrap-around coverage since the 1980s. Contact your broker today to help your clients find the coverage that best meets their needs.
Table 2