Value your brand? Then you'll appreciate the need for reputational risk insurance. Amwins Global Risks is delighted to bring you a new reputational risk policy from Beazley aimed at primarily consumer-facing businesses.
The demand for reputational risk insurance
Reputational risk has evolved to become a principal emerging threat to business. It is a key board-level concern, with the majority of company executives stating that it is the single hardest area of risk to manage. Polecat Intelligence, a leading reputational data intelligence company, commented that 90% of companies report having inadequate data to manage their reputation and almost 50% lack the real-time insights to anticipate and manage emerging threats.
As a broad societal topic at a time of unprecedented cultural, political, social and environmental change, the loss of reputation is a vector for existential damage. Additionally, companies find themselves the targets of a diverse range of actors. Since 2016, 80% of global companies have seen scrutiny of their business conduct and risk landscape, with activist protests targeted at business more than doubling over the period.
With 80% of the total value of the average company now comprised of intangible assets like intellectual property, trademarks and reputation, and a lack of products to cater for the risks facing these types of assets, the insurance industry faces an urgent need to evolve the services offered to companies in order to maintain relevance.
How is reputational risk changing?
Pomerantsev (2019) paints a disturbing picture of the state of trust and the truth in the age of 'fake news'. He argues that the historical legal and ethical protocols around providing fact-checked news and opinion for public consumption have been perverted, to the point where state and non-state actors are able to manipulate public opinion with impunity, whether it is hacking the Brexit debate and the US election campaign or crushing political opposition in Russia.
The retreating influence of expert opinion in the public's decision-making and the impossibility of separating facts from fiction mean that companies are operating in a remarkably volatile environment. Not only could a genuine crisis be escalated and twisted into a longer-term problem, but accusatory materials posted online could spark a crisis at any time; we now have hundreds of millions of content super-producers walking our streets. Someone with one or two tangible relationships can reach billions of people with the push of a button.
Cohen, in his speech at the Anti-Defamation League, warned of the implication that millions now have unbridled 'freedom of reach' as well as freedom of speech. The debate over the societal impact of providing people with what is potentially a weapon of mass destruction is deep and complex, but we will simply state that today, social media results in a range of considerable, negative outcomes. It is also arguable that the agnosticism exhibited by social media's creators and designers towards the moral implications of the misuse of the platforms has led to an absence of checks and balances. This means social media has manifested something that will be increasingly hard to control.
These trends contribute towards the concept that safeguarding reputation is the overwhelming challenge faced by many companies today. The current 'post-truth' zeitgeist has both socio-political and commercial faces. The public's lack of trust in authority is being manipulated in politics, which has direct implications for the nature of trust in the context of corporate reputation, where the underlying forces are broadly the same.
The business need
Businesses have a requirement for:
intelligence to help them define the reputational threats facing their business

an insurance mechanism to protect them against financial losses due to reputation
consultancy services that provide timely crisis mitigation and control advice.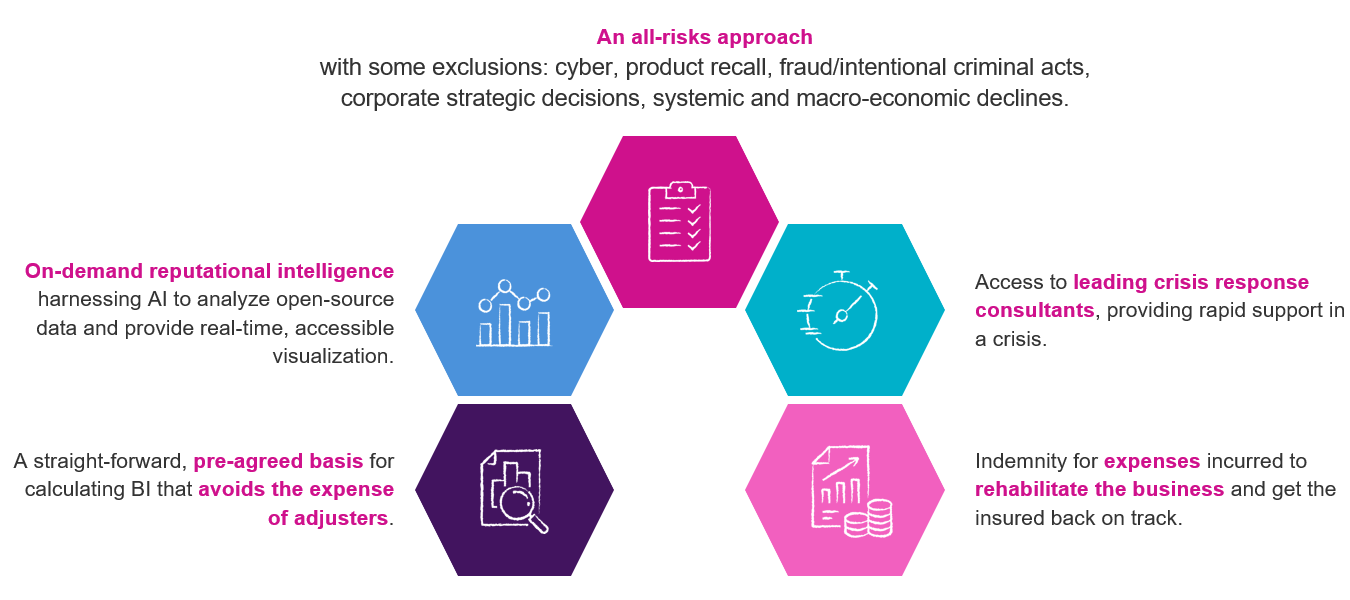 NOTES
1 Ace, 2013, 'Ace European Risk Briefing'.
2 Polecat, 2020.
3 Polecat, 2020.
4 World Intellectual Property Organisation (WIPO), 2016, 'Intellectual property, finance and economic development'.
5 Deloitte, 2020, '2020 Insurance Outlook'.
6 As covered by The Guardian, 2019, 'Read Sacha Baron Cohen's scathing attack on Facebook in full...'
7 Anderson, J. Rainie, L. 2020, 'Many Tech Experts Say Digital Disruption Will Hurt Democracy'.
View more information about our professional and financial risk expertise.